WATCHING the fabulous fringe company 'Tread The Boards' perform Shakespeare's King Lear in their theatrical home of 'The Attic 'at Stratford is always an event to relish.
This was a double-treat as I went with the multi-award winning director and renowned Shakespearean expert John Adams.
At the curtain, I was delighted that John felt his life had been enriched by the introduction – he loved the intimate set up and the fact it was a stone's throw away from the worlds most famous theatre where the big names – excuse the pun – also tread the boards.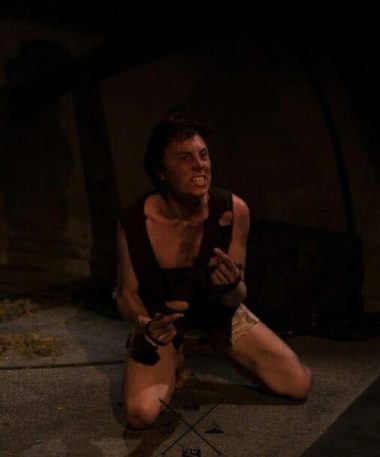 King Lear is one of the few plays of the Bard's that does not contain an abundance of Christian religious references. That is because it is set in a period many years before we started to record our monarchy. The final lines of the play refer to 'Merlin' King Arthur's magician and political advisor as being many years in the future.
So 'Lear' refers to Gods in the plural and who and what they are is shrouded in mystery. King Lear has a feel of 'Game of Thrones' about it – family feuds and buckets of blood.
I liked Mr Adams' short preface of what we saw – Take one fed up King who wants to party with his mates rather than look after his citizens so he decides to split his Kingdom up twixt his three daughters and let them rule whilst he feasts and fornicates.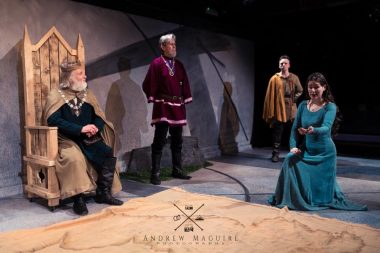 To decide who gets what he asks the said daughters to say how much they love their dad. Two gush and one refuses to play – she gets exiled. Luckily for her The King of France is besotted with her- despite she brings with her no dowry – they retreat to raise an army to come back and take – what dastardly Dad has taken away. Thus our GOT begins.
Philip Leach takes on role of the King with great aplomb. However I felt he was more comfortable in his later mad hippy stages of the play, wearing flowers in his hair and being gentle than he was in the earlier petulant scenes. Leach has the kind eyes of a favourite Granddad rather than the red ones of an ageing imp. That having been said he gives us a multi-dimensional Lear which I preferred to the recent television performance from Anthony Hopkins.
Matilda Bott played the traditional double of the Fool and the banished favourite daughter Cordelia to perfection, dragging every ounce of irony from the text and being such a clever advisor to her master – plus a purveyor of information to us. As Cordelia she is the opposite – a no-nonsense tough little madam.
Kate Gee Finch and Alexandra Whitworth play the other two daughters Regan and Goneril – both go nicely from saccharin sweetness to devil's daughters as they try to outdo each other in damnable deeds.
Joe Deverell-Smith is a suave jack-the lad of a Duke of Cornwall and Pete Meredith is definitely boo-hissable as the baddie son Edmund, who sets one against another in his own power quest.
Philip Jennings makes a regal Earl of Kent, Georgia Kelly good value as Oswald, Charlie Watson struts harmoniously as the Duke of Albany and Edward Manning is charismatic and velvet voiced as the poor used and abused, Duke of Gloucester
Robert Moore was to me the shining star of an all-round talented company. He plays the son Edgar who has to go into hiding and disguise as a mad beggar known only as 'Poor Tom'. Moore's energy is simply infectious.
Director John Robert Partridge has done his job well. Every word is spoken with belief and clarity and his story telling is more understandable than most of the Lears I have seen on more famous stages. Partridge is perhaps at his best when the blood-letting starts and the body count mounts up – the eye gouging was positively wince-inducing – then which director doesn't love the gore more than the chore.
John Adams concurs that TTB is a marvellous little company that deserves to be packed out every night. The tragedy 'King Lear' is running in tandem with the comedy 'Much Ado About Nothing' – take your pick and perhaps a packed lunch to enjoy by the river but do go along to 'The Attic Theatre' in Cox's Yard and enjoy some highly 'entertaining and accessible Shakespeare'
Reveiw by Euan Rose.