AN EMOTIONAL ceremony took place at Worcester's Guildhall when the chair of a county charity was awarded the British Empire Medal (BEM).
Julia Micklewright was honoured by Vice Lord Lieutenant of Worcestershire Brigadier Roger Brunt CBE  for services to people with Asperger's.
The ceremony was a poignant moment for Julia who is chair of ASPIE, a charity founded by her late daughter Sarah in 2011 for adults with Asperger's Syndrome.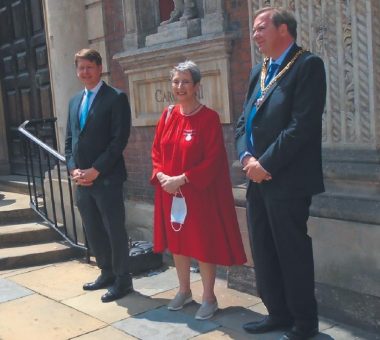 She gained a law degree, trained as an accountant and joined MENSA before receiving her Asperger's diagnosis in 1998.
Sarah's vision was to tackle the dearth of services for adults on the autistic spectrum who are often unfairly disadvantaged at the best of times. Meeting regularly at ASPIE on Sansome Walk reduces isolation and improves prospects in education, employment and independent living.
"The complexities of living with Asperger's didn't disappear when Covid-19 arrived on the scene," Mrs Micklewright said.
"At ASPIE we are now supporting increasing numbers of adults and their families seeking us our for our autism specific services and crisis counselling to get them through the bewilderment and damage caused by a cocktail of isolation, loneliness, delays in diagnosis, job losses, loss of homes, family break-ups and multiple suicide attempts."
Mrs Micklewright supported daughter Sarah with her diagnosis at the age of 23 to form the group in 2011 until her death in 2014 following a short illness at the age of 38. Since then Mrs Micklewright has kept the group going along with her sister Elizabeth as a tribute to her daughter
"The ongoing friendship, acceptance and step by step support ASPIE provides to overcome each challenge is magical in reviving the will to live, boosting motivation and optimism in finding new jobs and a happier future," she said.
Members gather on Wednesdays and Saturdays to engage in various discussions, games, workshops, quizzes and other activities.
Visit the website at www.aspie.org.uk or call 01905 27825 for more.