Sixways real ice rink can host up to 75 skaters at any one time and is staffed by fully qualified skate marshals.
All ages over four years are welcome to skate, whatever their level of ability. Skate aids will be available to assist younger skaters on the ice.
The rink is open at the following times:
Mon-Thurs 10am-8pm
Fri-Sat 10am-10pm
Sun 10am-8pm
The sessions will begin on the hour and will last for 45 minutes with a 15-minute change over period.
There is an 'Early Bird' ticket price for selected sessions, available on weekdays between 12pm and 2pm (finishing at 3pm).
The 'Skate Shack' onsite will be open daily offering hot drinks and snacks so skaters and non-skaters alike can keep warm before and after skating.
There are also themed and character sessions!
Monday 20th December | 3pm – 7pm | Grinch and Elf
Monday 27th December | 1pm – 6pm | The Ice Sisters and Their Friendly Snowman
Tuesday 28th December | 1pm – 6pm | Snow White and Iron Man
Wednesday 29th December | 1pm – 6pm | Sleeping Beauty and Spider-man
For information about the Character Sessions, please click here.
To view the themed sessions timetable, please click here.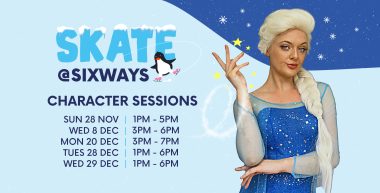 Ticket Prices 
Skate@Sixways sessions are priced as below:
Price Band                    Regular                 Early Bird
Seniors (60 and Over)     £7.50                     £4.50
Adults (16 and over)         £12.50                   £8.50
Child (under 16)                £8.50                     £5.00
Student                              £8.50                     £5.00
Family of 3                         £27.50                   £23.50
Family of 4                         £35.00                  £30.00
Family of 5                         £42.00                  £36.00
Dolphin Skate Aid             £3.95                     £3.95
Family tickets are a minimum of 1 adult and 1 child under 16
Early Bird is weekday only between midday and 2pm (finishing at 3pm)
Students must have a college or university ID card or NUS card.
Group Tickets 
There are special rates available for schools, scouts/guides, youth groups and other community organisations. Please contact them for further details.
Please note all group bookings must be paid for in full prior to the event to secure a group ticket.
Frequently Asked Questions 
How do I Buy Tickets?
You can pre-book online through the Worcester Warriors website to guarantee your place or buy your tickets from the box office on-site when you arrive. Remember, you may have to wait for your turn on the ice if you haven't booked your session in advance, especially during peak times.
How do I use my e-ticket?
Go to the reception desk on arrival with your printed e-ticket and we'll check you in.
What should I wear?
We recommend warm, waterproof outdoor clothing. Remember you may get wet if you fall over. Long socks, gloves and hats are encouraged. Wear thin layers under a jumper or coat. Hoodies must not be worn up on the ice. Please make sure scarves and loose clothes are tucked in.
Where can I park?
There is ample parking at Sixways Stadium. Please be mindful this may be reduced during peak periods such as match days.
How old do I have to be?
For the main sessions, we ask that skaters are aged four and upwards. Our smallest skates are child's size 8. Safety helmets are available free of charge on request. Children under the age of 8 years must be accompanied on the ice by an adult.
What is the largest skate size?
Largest skate up to adult size 14.
Skate Aids
There is no upper age limit for the hire of dolphins although we do recommend a height limit of 120cm.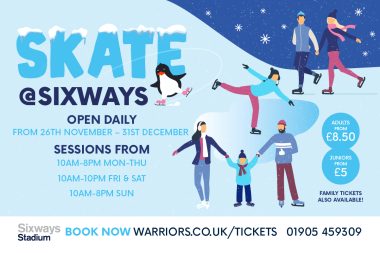 This online posting is part sponsored by Worcester Sixways. For more information please click here.