If you're looking for some great prenatal and postnatal yoga classes across Worcester and Malvern, say Namaste and get yourself down to FloFitness.
FloFitness began January 2015 and is continuing to grow and develop with new classes and workshops. FloFitness delivers professional group classes, corporate and 1-2-1 training in various styles of Dance, Yoga and Fitness across Malvern and Worcester. All classes are open to the absolute beginner through to the experienced yogi, dancer or fitness enthusiast.
Kym Lane who founded FloFitness is an experienced teacher who has been teaching Dance since 2008 and Yoga since 2015. Kym has also performed in various styles of dance locally with different groups. Her training began with Ballroom & Latin and continued through to University studying Contemporary Dance. Kym has gained many qualifications along the way including Zumba, group exercise and Level 3 Personal Training.  Kym holds 200hr Ashtanga Vinyasa, Pre & Postnatal, Kids Yoga and Yin Yoga teaching qualifications.
​The pre & postnatal classes take place at the Eden Centre which can be found next door to Malvern Spa. There is plenty of parking there and you will find them upstairs in the Wigglesworth room.
​Zumba Gold and Dance Mix Gold both run at Cecilia Hall at the beautiful Cecilia Ballet School in Great Malvern. This space is perfect for these dance fitness classes.
Email: info@yourflofitness.co.uk
Call: 07875938725
Follow FloFitness on Facebook, Instagram and YouTube.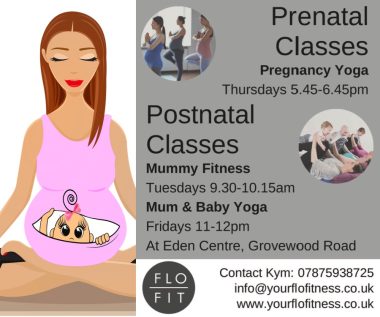 PRENATAL CLASSES
Taking part in a prenatal class comes with many benefits. Whilst the body is going through natural changes sometimes this can create back pain, tight muscles and affect sleep. Yoga will help keep the body supple, support the lower back, strengthen the pelvic floor and improve overall wellbeing. The classes include breathing practices which can help during labour and birth, improve sleep an bring a sense of calm and relaxation to the mind and body.
​Classes are suitable for the absolute beginner.
You can start classes from 14 weeks and attend through till baby arrives.
Speaking to your GP/midwife is always advised before starting.
POSTNATAL CLASSES
Postnatal classes are the perfect way to ease back into exercise, start to knit the body back together and begin to feel like yourself again.
Attending classes are a great way to meet other mums, bond with your baby and find time to look after yourself. ​
You can join the postnatal classes after 6 weeks if you had a non complicated birth.
After 8 weeks if you had any complications and after 12 weeks if you had a C-section.
Ensure you and baby have had the all clear and your 6 week check up before attending.
All classes are suitable for the absolute beginner.
Call: 07875938725 for more details