Colwall Park, a dog-friendly country house hotel situated on the Hereford and Worcestershire border, is celebrating this month after having recorded the most successful first quarter since 2014.
Following a refurbishment of 17 of the hotel's bedrooms with the help of a local designer, Colwall Park has noted a considerable increase in sales and in revenue during the first quarter of 2022.
Sales at the hotel have increased 30% since 2019 and doubled on the 2018 figures. Colwall Park has reportedly also welcomed over 280 dogs in total to stay with them over the first quarter.
Speaking on the quarter one success, Lynsey Kettlewell, Managing Director of Colwall Park, said:
"After the last couple of years being incredibly tough for us and the hospitality industry as a whole, we are thrilled to share that Colwall Park has recently celebrated its most successful first quarter since it was acquired back in 2014.

"Our overall aim has always been to ensure that the hotel was a home away from home for both locals and guests visiting from farther afield.

"We're proud to be based in the heart of Colwall and we see ourselves very much as a local business. We would like to take this opportunity to thank everyone including our returning guests, new guests and our staff for their continued support over the years, none of this would have been possible without you.

"We are very much looking forward to seeing what the rest of 2022 has in store for us."
Over the course of the pandemic, Colwall Park has also found a notable rise in family events – from overnight stays to private dining and afternoon tea parties.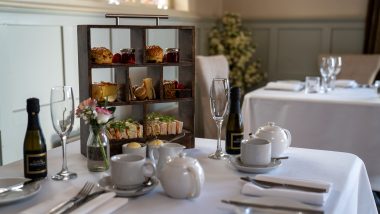 Afternoon tea is served. Photo credit: Colwall Park
Matt Homans, General Manager at Colwall Park, said:
"Following a tough couple of years full of lockdowns in the wake of the COVID-19 pandemic, we are really pleased to see that Colwall Park Hotel is thriving and the first quarter of 2022 has been particularly successful in comparison to previous years, prior to the pandemic."
Matt continued:
"We are pleased to continue our longstanding relationships with the local community in Colwall and welcome guests with four-legged friends from all over the country this year. We are excited to see what the rest of the year will bring for Colwall Park, especially with the many different exciting events we have planned!"
Recently launching their brand new outdoor dining area, Colwall Park looks to welcome more guests outdoors over the summer months, kicking off with their own Platinum Jubilee garden party.
On Saturday the 4th June, in partnership with different local businesses within the community, Colwall Park is inviting locals, guests and out-of-towners to come along to mark a monumental party in history and celebrate Her Majesty the Queen with several activities planned throughout the day.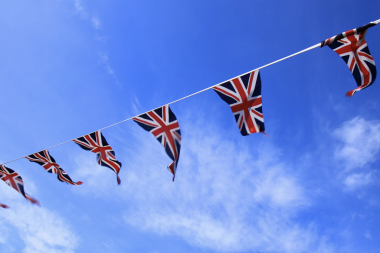 Celebrating in true Royal fashion, attendees can dine like the Queen by enjoying a Jubilee afternoon tea while spending the day trying to pin the tail on the Corgi organised by The Rotary in Colwall, listening to a local Jazz band, taking part in a cake competition run by the Colwall Women's Institute (WING), and admiring Colwall Classic Cars.
Looking to bring the entire local community together, The Colwall Knitting group have also hand-knitted the bunting for the event and a local scout group have organised a tombola to raise funds for their Jamboree.
Suitable for the whole family and free to attend, there will be many more exciting activities planned such as summer fête stalls, a bouncy castle and a BBQ. Attendees will need to pre-book an afternoon tea by calling Colwall Park on 01684 540000.
For more information about Colwall Park or to book a stay today, visit – https://www.colwall.co.uk/
---
DID YOU KNOW? For just £15 per dog, your perfect pooches will enjoy relaxing in a bed with you in your room. The hotel will also provide a towel, a bowl for water and food, along with some delicious treats. Your dog will have everything they need provided here at this wonderful dog-friendly hotel in the Malvern Hills. High five to that!