As Birmingham's very own Sir Lenny Henry collected an honorary degree from the prestigious Oxford University this week, we ask what are honorary degrees and how do you get one?
The actor and comedian, 63, was among nine recipients to receive the honour at a ceremony held at Sheldonian Theatre, Oxford on Wednesday.
Sir Lenny was pictured wearing a grey checked suit along with the ceremonial red and black robe and black mortarboard hat as he walked in the procession ahead of the ceremony.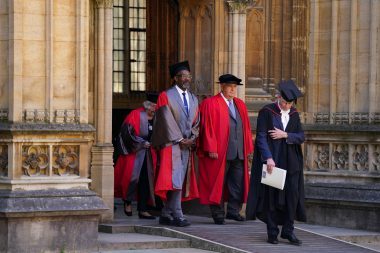 Sir Lenny Henry walks in a procession ahead of receiving an honorary degree from Oxford University at a ceremony at Sheldonian Theatre, Oxford.  Photo credit: PA Wire/PA Images. Picture by: Jacob King
Born in Dudley, Sir Lenny won the talent competition New Faces in 1975 and started working in television when he was 16 years old. He went on to feature in numerous TV shows including Broadchurch, The Syndicate, The Long Song and the biographic Danny And The Human Zoo.
In 2016, the actor received a Bafta Award for outstanding contribution to television. He also co-founded the charity Comic Relief alongside filmmaker Richard Curtis in 1985 and set up The Lenny Henry Centre for Diversity at Birmingham City University, where he is Chancellor. Sir Lenny also received a knighthood from the Queen at Windsor Castle in 2015.
Also among the recipients was Wim Wenders, a notable figure in contemporary German film, British scientist Bernard Taylor and Professor Susan Solomon – who is regarded as a world leader in atmospheric science.
Professor Theda Skocpol, an American social scientist, ecologist Dr Jane Lubchenco, American medievalist Professor William Chester Jordan, telecommunications entrepreneur Dr Mo Ibrahim and Professor Ara Warkes Darzi, Baron Darzi of Denham – who is a surgeon and politician – were also awarded honorary degrees.
Professor Dame Louise Richardson, vice-chancellor of Oxford University and chair of the committee on honorary degrees, said:
"We are delighted to have this opportunity to recognise and to celebrate the myriad accomplishments of our nine distinguished honorands across a wide range of fields.

"Together they have enlightened us, entertained us, and improved the lives of people around the world."
What is an honorary degree?
The award is the highest honour a university can give, and an honorary doctorate is given, not because the person has studied and passed exams, or even gone to university, but because of their contributions to society or lifetime achievement in a certain area. Now, hundreds of honorary degrees or fellowships are awarded each year in the UK, and some are even given to celebrities.
When was the first honorary degree given?
The first honorary degree was awarded to Lionel Woodville in the late 1470s by the University of Oxford.
Is an honorary degree a real degree?
Yes. An honorary degree is an academic degree for which a university (or other degree-awarding institution) has waived all of the usual requirements. It is also known by the Latin phrases honoris causa ("for the sake of the honour") or ad honorem ("to the honour").
How do you get an honorary degree?
Generally, universities nominate several persons each year for honorary degrees; these nominations usually go through several committees before receiving approval. Nominees are generally not told until a formal approval and invitation are made. Members of the public can also nominate people for honorary degrees and these people go through the same process having to be approved by various committees before an award is granted.
Do recipients have graduation ceremonies?
Yes, honorary degrees are usually awarded at regular graduation ceremonies, at which the recipients are often invited to make a speech of acceptance before the assembled faculty and graduates – an event which often forms the highlight of the ceremony.
How many honorary degrees are awarded each year?
It depends. Some Universities offer only a handful each year. The University of Oxford for example offers between five and ten per year. Whereas the Open University say they have awarded over 1,100 honorary degrees since 1973 which equates to about 23 per year.
Who has the most honorary degrees?
Buddhist philosopher, peace-builder, educator, and writer Daisaku Ikeda has received 324 academic honors, including more than 100 honorary doctorates from academic institutions all over the world.
The person with the most honorary degrees from universities in the UK is Sir David Attenborough, who has a whopping 32 honorary degrees for his services to science and broadcasting.
Have any famous people received honorary degrees?
Yes, lots. Professor Brian Cox was awarded an honorary Doctor of Science degree by the University of Warwick a few years ago saying:
"To be recognised with an honorary doctorate is a great honour for a university to bestow, is a wonderful thing for me personally."
TV personality Clare Balding also recently collected a University of Worcester Honorary Degree at Worcester Cathedral.
Footballer Marcus Rashford became the youngest ever person to receive an honorary doctorate from The University of Manchester in 2020.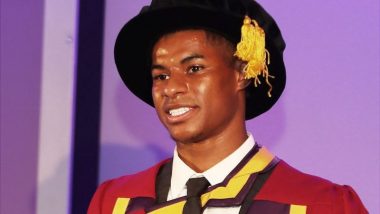 Marcus Rashford became the youngest ever person to receive an honorary doctorate from The University of Manchester. Photo credit: Manchester United press photo.
A little further afield rapper Stormzy recently received an honorary degree from the University of Exeter. The award-winning rapper was given the degree for his: "outstanding achievement in the field of higher education, philanthropy and widening participation".
Singer Ed Sheeran has also picked up an honorary degree in 2015 from the University Campus Suffolk – which is based in Ed's home county – for his "outstanding contribution to music".
And earlier this year Singer Taylor Swift received an honorary doctorate of fine arts from New York University also for her achievements in the music industry.
"Never be ashamed of trying. Effortlessness is a myth," she said in her acceptance speech.

"I hope you know how proud I am to share this day with you," she said. "We're doing this together so let's just keep on dancing like we're the class of 22." she said.